Sometimes, the atrocities of life overwhelm us. We are deeply hurt, and the damage seems beyond repair. Moving on with life seems like a herculean task. But we don't want to be perceived weak by the people around us. So, we wear masks; masks with happy faces and perfect lies. Too often, we forget to take off those masks for days, weeks, months and even years. Although we're unhappy, we feel comfortable and safe behind the smiling face we put on in front of the world, even if we are hollow inside.
I had woven a web of sweet lies around me that I had told myself over many years. I had kept silent for a long time because I was afraid. I was afraid that no one would believe me; afraid that I would be abandoned; afraid that people would mock at me and call me names. It took me a long time to recognize it as sexual abuse, and even longer to talk about it.
In a country where 53% children are sexually abused, according to official figures, and in reality even more than them, hardly do the parents or the schools bother to educate the children about sexual abuse. Even the mere mention of the topic is considered a taboo. So, like an average Indian kid, I didn't know what sexual abuse was. Before I had watched the episode on

Child Sexual Abuse on Satyamev Jayate

, I thought that I was alone. I thought it was a bad thing to be sexually abused and it happened to bad people.
If you ask a parent whether they have educated their child about sexual abuse, the common answer is, "But I try to keep him/her with me most of the time and don't let him/her go out alone". Although an indication of good intentions, this usual response also tells us about the denial mode we are in- sexual abuse can happen to children on the TV or newspapers, but such things don't happen in our own homes.
Well, they do. In fact in about 90% of the cases, the abuser is someone the child knows and is comfortable being with them. When I asked my mom why she hadn't told me about sexual abuse, she said that she hadn't even imagined that it could happen to me. Also, she tried not to leave me with any male member of the family alone. Ironically, among the people who have molested me, two of them are females.
It started when I was 8. A friend in the neighborhood, who was 2 years older than I, started to sexually abuse me while playing doctor-doctor or house. Since she was a girl, I found it difficult to talk about it to my mother. Also, whenever any such scene appeared in a movie we were watching, the channel was instantly changed which made me think it was wrong. And since I too was playing the game, I would be the one to be blamed. So I remained quiet.
At the age of 9, my mother had been transferred to another state and I and my sister went to live with her, while my father lived alone. We lived in my uncle's house who lived there, in the portion supposed to be let out for rent. On top of having problems with adjusting in a totally new environment, missing my father and coping up with the constant bullying by the older cousins, one of my cousins who was 13-year old at that time started to sexually abuse me. I didn't tell my mother because whenever I told her about any of the bullying incidents, she always told me that we couldn't change others. Also, meanwhile an aunt of mine had manipulated me into thinking that my parents were least bothered about me. I started having suicidal thoughts and slept, making a new plan to end my life every other night.
After a year, my mother was again transferred and we started living with my father again. I was relieved until one of my cousin sisters who lived nearby started sexually abusing me. She was 17 year-old then. She would visit our home often, especially when my parents were away and sexually abuse me. I felt violated and broken. It went on for two years until she moved to a new place for her college.
I wasn't surprised when an uncle of mine who was due to be married in few weeks groped me and touched me underneath my clothes. I had learnt to be silent and I was too scared to break that silence.
Another uncle of mine who was married and had kids of his own sexually abused me multiple times and it was more intense than whatever I had been through till then. He called it "our secret" and assured me that I would not be believed in case I chose to tell my parents about it. I was hurt and scared. I started to hate my life. While crossing a road, I would secretly hope for a vehicle to run me over and kill me so that I didn't have to live the nightmare again. But I decided to tell a cousin brother of mine about it, who is very close to me. He gave me some strength and without my parents' intervention, I ended it.
Just when I had thought that everything was fine again, the same cousin who had sexually abused me when I was 9 paid us a visit for few days and did the same again.
I had lost faith in my family. I had a hard time trusting anyone and the once bubbly and chirpy kid turned into a quiet and secretive teenager. My parents mistook it for teenage rebellion and I was misunderstood by family, friends and teachers for a snob.
When I was 16, I got a lot of attention from a guy I knew. He was 18. We became good friends. I thought that I had finally found someone who could understand me and so, with an empty love tank and a hope to be understood, I agreed to date him when he asked me out. I felt happy, for a change. He drove his father's car sometimes and we used to go for drives. Around three months into our relationship, he came in the car one day and that day turned my life upside down. He drove to some secluded place and told me that he wanted to have sex with me. I was firm on my values and denied it strongly, to which he reacted by forcing me into it. I was orally and digitally raped. When I tried to fight him off, I was choked too.
But the sad part was that I didn't recognize it as sexual assault. I felt guilt; guilt for trusting a person, guilt for going out with him that evening. Since he was on the receiving end of the oral sex, I thought that it was my fault. I felt dirty, and sick of myself. I didn't tell a single soul about it and vowed to myself that it would remain a secret. But it didn't help. Suffering in silence never does. The only thing that helped me remain sane was my rescue puppy,

Ross

. The four month-old, terminally ill puppy was my savior. He died a week after the incident.
I wanted to cope with life, however possible. I decided to become a tom-boy. I started swearing, a lot. I cracked all kinds of bawdy jokes. I tried my best to not seem attractive to anyone. But, I felt empty inside. I knew I had to come to terms with it, but I tested my procrastination skills. I self-harmed. I developed a bad illness that lasted for few months which couldn't be diagnosed and the doctor asked me repeatedly if I was stressed or disturbed by anything. I remained quiet. I had bouts of depression when I went on for days without sleeping for more than an hour a day.
It wasn't until September 2014 that I decided to tell it to someone, thanks to the chemistry exam I spoiled because of a sudden memory that had hit me hard. Unable to talk about it to someone I knew, I sought help online. I emailed Childline India and received an understanding response. Soon after, I received a heart-warming call from Ishita Didi, who worked at Childline. I was advised to go to a counselor and address my issues. She told me about Sushant, a 75 year-old man who was a counselor at the Doon Youth Centre, an organization for the youth in the town. I reluctantly went to his place, owing to his age and gender. And now, I'm glad I did. Life hasn't been the same since that day. He has helped me discover my purpose of life and given a whole new meaning to my existence.
I told my parents about it in October. I'm thankful for the understanding response I got from them. I told a few friends. All of the girls who I shared my story with told me how they were sexually abused. For some of them, I was the first person they had told. No, I'm no counselor. The only reason they told me was that I had chosen to share my story with them. Trust is always a two-way street, you see.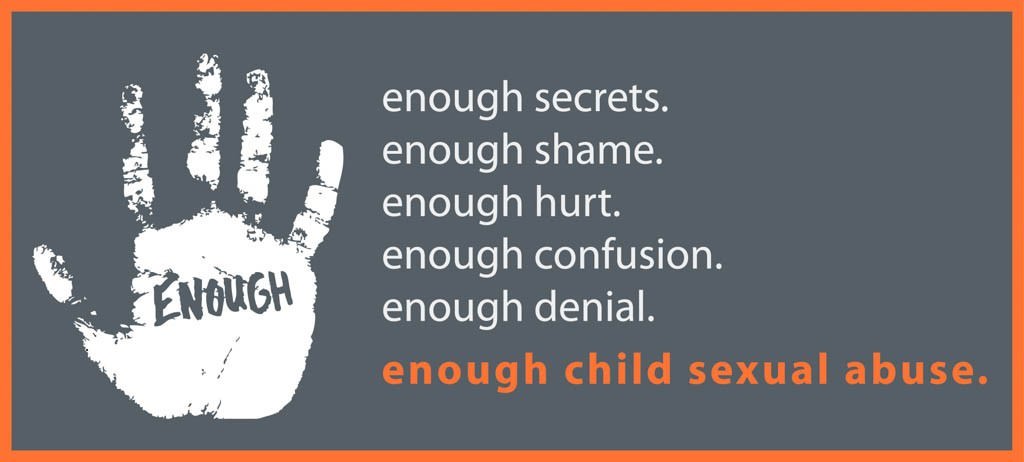 via
And therefore, I, Anahita Batra am sharing my story with you. I'm sharing it because I'm not ashamed of it anymore. I'm sharing it because if anyone of you has been sexually abused, I want to do my part in encouraging you to break the silence. And in case you already have, I admire you for doing it; I know how much courage it requires. I'm sharing it because I want to do my part in ending the taboo associated with the rising problem of child sexual abuse. I'm sharing it because sharing my story brings healing to me. I'm sharing it as a token of respect for the people who have encouraged me and many others like me to go on while I was about to break down, namely,

Dr. Sunitha Krishnan

,

Suzette Jordan

,

Harrish Iyer

,

Cindrella Prakash

and all of the amazing people who decided to break the silence. I'm sharing it because I'm not just a survivor of sexual abuse, I'm a normal 18 year-old girl with her own dreams and fears, challenges and adventures, and the choice to emerge stronger from what had once tried to break me down.